Welcome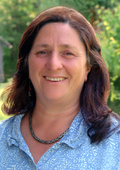 She knows houses, and she knows people. Put her experience to work for you.

If you're looking to buy or rent, just tell her what you have in mind. If it's on the market now, she'll let you know and be happy to show it to you. If it comes on the market tomorrow, you'll be the first to know about it. Just tell her what you're looking for, and let her do the legwork for you! Use Quick Search or Map Search to browse an up-to-date database list of all available properties in the area, or use my Dream Home Finder form and she'll conduct a personalized search for you.

If you're planning to sell your home, nothing is more important than knowing a fair asking price. Joanie would love to help you with a FREE Market Analysis. Joanie reviews current market conditions and supply and demand as it relates to the identified property.
Home staging is enormously important in this competitive market. Joanie will assist in your house being seen in the best light possible. She has done several renovation projects herself and has obtained the most reliable and affordable subcontractors to get the repairs completed. Doing this prior to marketing the property will also help sell a home quickly and for the best price.

But don't just take our word for it. She's helped hundreds of people just like you to find, buy, sell and rent their dream properties. Read their testimonials. Then Meet Joanie, your professional Pioneer Valley Realtor and Broker.